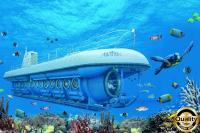 Departure
Promoción Mexicanos
Duration
Inmersión de 45min a 1 hora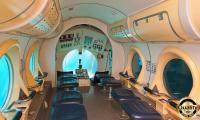 Duration
Inmersión de 45min a 1 hora
Description
Atlantis Submarines Cozumel will be that adventure that will count again and again throughout the years. Being part of the 1% of the world population that has submerged beyond 30 meters under the sea and discovering the magic that hides in its depths is a unique experience. No special type of material or specific diving training is required!
You will travel aboard the only real tourist submarine in all of Mexico designed and built especially for our passengers to explore the mysterious Caribbean. Tropical life, the impressive sunken ship, Felipe Xicotencatl or the vertical drop of more than 400 meters that locals know as "La Pared", will come to life as you watch them from one of our 26 skylights.

Cozumel is an enchanted island filled with ancient culture and tropical landscapes that will captivate even the most experienced traveler, but the secret of its overwhelming magic lies under its sparkling turquoise waters. You can check it out by snorkeling or zoom in if you have a diving degree, but to really experience the richness of the deep you need to dive deep!
Let us take you on the only tourist submarine in Mexico, Atlantis XII. This incredible vessel will glide smoothly to depths beyond 30 meters keeping you and your family in a pressurized and comfortably heated environment. With more than 26 skylights and a large front window located at the bow of the submarine, everyone will enjoy the most impressive views of the Chankanaab reef, the second largest in the world. You will have the opportunity to visit a mysterious sunken ship, the Felipe Xicoténcatl, more than 20 meters deep, while a member of our crew accompanies you with an entertaining narration.
Stay alert so as not to miss any detail of this vibrant environment where the most exotic fish swim, docile sea turtles and silky rays. The marine life that we will be able to see during the dive varies depending on the time of year, thus being able to even enjoy species that are passing through in their long migrations. Finally, get ready for "La Pared", where the seabed will disappear before your eyes, plunging into an impressive vertical drop that plummets to more than 400 meters deep. It will be before the true roots of Cozumel!
As you ascend back to the surface, you will be aware that the secrets of the deep have been forever etched in your memory. From the submarine you can enjoy the sun on the deck of our boat "Ana", which will transport you back to our private dock Atlantis while you enjoy a complimentary drink and let your mind navigate the magical moments of this unforgettable day.
DETAILS
Duration: 2hrs
Schedule
Departures: 09:30 AM, 10:30 AM, 11:30 AM, 12:30 PM, 01:30 PM
Bilingual guides
Ideal for children
RESTRICTIONS
Disabled or wheelchair passengers can participate as long as they can go down 12 steps on their own to enter and exit the submarine.
Children should be 90 cm tall.