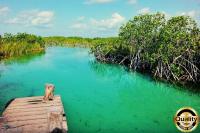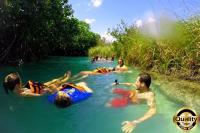 Departure
Playa Del Carmen y Riviera Maya
Cost Adults
129.00 USD
139.00 USD
Cost children
120.00 USD
129.00 USD
Description
Discover Sían Ka'an 1.6 million hectares of natural environment, and its great diversity of wildlife has earned it a declaration as a World Heritage Site by UNESCO. The incredible ecosystem is home to more than 350 species of birds and more than 100 species of mammals, many endemic to this region of Mexico. Dolphins, jaguars, crocodiles, ocelots, sea turtles and manatees are just some of the rare species that call this area home. This tour will take you to the depths of the reserve.
It includes:
Transportation with air conditioning.
Soft drinks, beers, tequila, water on board the transport (not an open bar)
Light snack before starting the nautical tour.
Boat ride through protected natural areas
High chances of watching Dolphins, Manatees, Crocodiles and Sea Turtles
Reef snorkeling includes
Snorkeling gear and life jacket
Visit one of the largest sandbanks in the world (looks like a natural pool)
A la carte food (also additional options with extra cost)
NON-alcoholic beverages in food
IMPORTANT BEFORE BOOKING
This excursion is for nature lovers, who value an almost virgin place and understanding that services such as streets, restaurants, boats, bathrooms, local guides and others are basic services which are organized by the same community of Punta Allen which It is the people in charge of safeguarding this heritage of humanity.
The path from Cancun to the entrance to the biosphere may take approximately 2 hours and from that point a fairly rugged sandy path will begin that will keep you jumping in your seat for approximately 2 hours ...