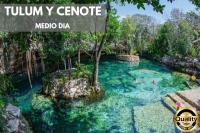 Departure
Cancún, Riviera Maya o Playa Del Carmen
Cost Adults
40.00 USD
49.00 USD
Cost children
35.00 USD
39.00 USD
Duration
8 horas aproximadamente
Description
Travel back in time during a day trip to the mysterious Mayan ruins of Tulum. Discover the secrets of this ancient civilization as you tour the archaeological site with a guide, enjoy free time to sink your feet in the sand on the beautiful Tulum beach, and then take a dip in the refreshing waters of the Jaguar cenote in the park with two eyes.
After they pick you up from your hotel, you will cross jungle-lined roads until you reach Tulum, a Mayan city located on the coast on the shores of the Caribbean Sea, on the waves that break on the beach. During the journey, the guide will share information about the ancient Mayans and the trade routes that cross the Yucatan peninsula.
When you arrive, enter the archaeological site to tour the ruins of this mysterious and fascinating city very well preserved. Hear theories about Mayan rituals, worship practices, and daily life as you walk around El Castillo.
From the place, you can observe the coast and the famous strip of white sand of Tulum. After the tour, enjoy free time to take photos, walk on the sand, or cool off with a dip in the turquoise waters of the Caribbean before heading back to the hotel.
The tour includes:
Transportation with air conditioning
Professional bilingual guide (Spanish - English)
Entrances to the archaeological zone of Tulum
Drinks, entrance fees to Dos Ojos Park and swimming in the Jaguar Cenote
Tax and insurance
Does not include:
Payment using camcorder $ 45.00 PESOS
Train in the archaeological zone $ 34.00 PESOS
Payment $ 10USD for conservation area protected natural area
Food
Additional Information / Recommendations:
Children from 5 years pay (children under 5 do not occupy a seat)
Animals are not accepted
The use of a professional camcorder or tripods is not allowed
Comfortable shoes, comfortable clothes, hat, swimsuit and towels (to be able to swim in the sea) carry cash, camera
EYE THIS EXCURSION DOES NOT VISIT THE LEFT AND RIGHT EYE OF THE PARK.