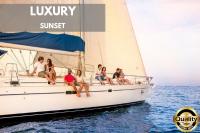 Description
Delve into the crystal clear waters of the paradisiacal coast of Cancun and enjoy an extraordinary sunset on board our luxurious sailboat. Whether as a couple or in small groups, relax and let our crew serve you as you deserve while enjoying a glass of good wine, delicious hors d'oeuvres and an open bar. This is the best way to finish off an unforgettable day in Cancun.
Sail on a luxurious catamaran
To cross the calm waters of the Caribbean, there is no better means of transportation than a catamaran. These specialized sailboats have multiple hulls to make sailing on them as pleasant as possible. They are ideal for those looking to relax on the high seas and enjoy the spectacular landscapes that Cancun has to offer.
Cancun Adventures catamarans are meticulously maintained and our fleet is one of the most sophisticated in the industry. When you sail with us, you are sure to enjoy your trip to the fullest. If you want to live a romantic evening in Cancun, consider our Luxury Sailboat at Sunset. We are sure you will love it!
Experience the best sunset in the Caribbean
Are you ready to sail on a luxury sailboat? Cancun is the perfect place to live this experience. This stunning coastal region has one of the calmest seas in the world and has the most fascinating tropical landscapes. During our Luxury Sailboat at Sunset, you will sail along the Caribbean Sea and you will be able to admire the sunset aboard a comfortable catamaran, where you will enjoy an open bar and exquisite sandwiches, as well as take enviable photographs and create memories for all life.
In addition, we have round-trip transportation to most hotels in Cancun and Playa del Carmen. If you want to enjoy a relaxing ride and witness the best sunset in the Caribbean, our Luxury Sunset Sailboat is the perfect tour for you!
YOUR DAY WILL INCLUDE
Open bar
Snacks
Round-trip transportation from most hotels by air-conditioned vehicle
RESTRICTIONS
Minimum age: 10 years
This tour does not depart from Cancun
WHAT TO BRING
Hat
Lenses
Light sweater
Money for optional purchases