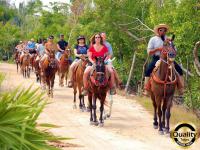 Departure
Cancún, Riviera Maya o Playa Del Carmen
Cost Adults
69.00 USD
77.00 USD
Cost children
69.00 USD
77.00 USD
Duration
2 horas mas tiempos de traslados
Description
A family tour that you should not miss on your visit to Cancun and the Riviera Maya. Explore the majestic landscapes of the rain forest and delight your ears with the sound of nature while enjoying a horse ride.
RECOMMENDATIONS
-Sunblock and insect repellent
-Change of clothes
-Cash money for tips (optional) and purchases
-Sun glasses
-Trousers
-Towel
-Swimwear
-Comfortable riding shoes (sandals can be used after the horse ride)
IT INCLUDES
-Botanas (tortilla chips, refried beans and sauces) and non-alcoholic drinks (bottled water and soft drinks) at the end of the tour
-Safety equipment
-Bilingual guide
-Taxes
-Horseback riding
-Local medical insurance
-Round trip transportation

DOES NOT INCLUDE
-Lockers and key (with additional cost of $ 5 USD, at the end of the activities $ 3 USD will be returned)
-Tips
REGULATIONS
-This activity is not recommended for pregnant women, children under 6 years old, or people with recent surgeries or with back problems
-Children over 6 years old can ride alone paying the adult fee
-For security, no more than one person per horse is allowed
-Maximum number of people per tour: 20
-For groups, the program may be modified according to its needs
-For your safety, you cannot gallop
-Maximum weight required: 100 kg
DURATION OF ACTIVITY
2 h approx.
AVAILABILITY
-Monday to Saturday
-Start of the tour: 9:30 am, 12:00 pm and 3:00 pm
-Hotels in Cancun, Playa del Carmen and Riviera Maya
-Starting point for those who come from Cozumel: Playa del Carmen