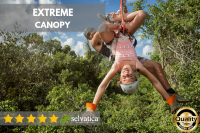 Departure
Mexicanos y Latinos
Cost Adults
47.40 USD
55.76 USD
Cost children
23.68 USD
27.86 USD
Duration
4:30 horas mas traslados
Description
The adventure of raising emotion to the EXTREME! Get ready for an adventure trip in Cancun and before ...
Extreme Canopy Adventure takes you to the next level and goes to the extreme! When the fast is not fast enough, the high is still not high enough and the distance is not distant enough ... then get ready to experience "Extreme Canopy" where you will have the "ride of your life" on the highest, zip lines , longer and faster. We are talking about the best extreme adventure tour!
After your adventure, your knuckles and your adrenaline return to normal and it is time to board the army truck, enter the jungle and visit the emerald green waters of its own cenote . Relax, swim and take off the zip lines over the refreshing waters of the jungle.
We finish this adventure with a lunch and soft drinks (or bottled water) back at the Visitor Reception Center. We promise you with Extreme Canopy in Selvática, it is the best way to explore the jungle of Cancun.
It includes:
Transportation
10-line circuit
Aqua-zip / optional on the last line
Tarzania (zipline coaster)
Swimming in a natural cenote
Light lunch and waters
Important information:
The maximum waist measurement for zip lines and bridges is 47 "or 120 cm.
Minimum weight in Tarzania: 45 kg / 99 lb
Maximum weight in Tarzania: 110 kg / 243 lb
Do not forget:
Swimsuit, comfortable clothes and shoes, cash or credit card for your photos,
lockers, towels, souvenirs, drinks and tips.