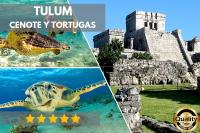 Departure
Riviera Maya y Playa del Carmen
Cost Adults
107.00 USD
119.00 USD
Cost children
89.00 USD
99.00 USD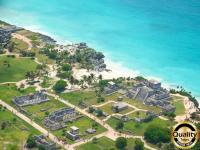 Cost Adults
103.20 USD
129.00 USD
Cost children
87.20 USD
109.00 USD
Description
Explore the Tulum archaeological site, the only surviving area of Mayan settlements on one side of the Caribbean Sea. Built on a cliff facing the rising sun, it gives us an impressive backdrop of turquoise blue water that makes this incredible site one of the most picturesque in the world. Enjoy a snorkeling tour in the Caribbean Sea in search of sea turtles and visit the beautiful coral reef where you can discover the infinite variety of marine fauna in this region. Travel to the low jungle of the Yucatan peninsula and explore the unforgettable world of underground rivers and "cenotes". Snorkel in the crystal blue waters of these unique limestone pools and relax among the thousands of white stalactites and stalagmites that surround you at every turn.
The tour includes:
Bilingual guide
Transportation with AA
Activities:
Tour of the archaeological site of TulumTour of snorkel over reef
Swim in underground river or cenote
Equipment required for water activities
Bathrooms and showers
Snack: sandwich, muffin and banana
Food: little pig, rice, vegetable salad,
fruits, guacamole, tortilla chips, sauces and tortillas
Drinks: bottled water and flavored waters
Tickets
DOES NOT INCLUDE:
$ 13 USD for conservation
of marine fauna
Additional Information / Recommendations:
Not recommended for people with different abilities, heart, respiratory or back problems, hydrophobia, conditions that can cause loss of consciousness, pregnant women, or people without basic swimming skills (for water activities).
Swimming with turtles is not guaranteed since they are in a free place
Children under 6 years old will not be able to participate in water activities or in caves and cenotes.
People under the influence of alcohol or drugs will not be able to participate.
DO NOT USE SUNSCREEN.