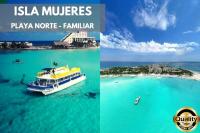 Departure
Riviera Maya Zona Sur (Después de Playa del Carmen a Dreams Tulum)
Cost Adults
90.00 USD
110.00 USD
Cost children
80.00 USD
100.00 USD
Duration
8 horas + tiempo de traslados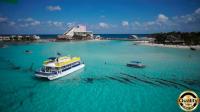 Cost Adults
69.00 USD
89.00 USD
Cost children
59.00 USD
77.00 USD
Duration
8 horas + tiempo de traslados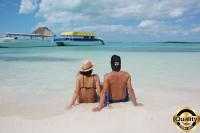 Departure
Playa del Carmen
Cost Adults
80.00 USD
90.00 USD
Cost children
70.00 USD
84.00 USD
Duration
8 horas + tiempo de traslados
Description
Isla Mujeres is located very close to the coast of Cancun and is a charming fishing village and an unbeatable place to enjoy a day of relaxation. Indulge yourself in the tropical environment of the island, discover the marine world on an incredible snorkeling tour and take advantage of the all-inclusive concept of this adventure.
The Isla Mujeres Unlimited tour from Cancun offers you an excellent all-inclusive experience, with drinks on board the boat, food on the island and access to a private beach club. On the snorkeling tour you will swim among tropical fish of all colors, coral formations and other marine life.
Your Isla Mujeres adventure will begin with a continental breakfast on the beach, then come a walk through the Caribbean Sea, a reef snorkeling tour, open bar service and exquisite food. You will return to Cancun with your camera full of photos, a smile on your face and memories that will last you forever.
The tour includes:
pick up at all hotels or meeting point
Continental breakfast
buffet food
drinks (water and soft drinks)
open bar after the first snorkel
life jackets
snorkel gear
guided tours by expert guides
specialized snorkel guides
Does not include:
Additional activities from Isla Mujeres or Cancun
Souvenirs, crafts, clothing, etc.
Photo and video services
Tips
Dock use tax and access to the marine park (approximately USD 13)
Any other product or service not mentioned in the list of inclusions
Additional Information / Recommendations:
Wear comfortable clothing, swimming shoes and a swimsuit, as well as sunglasses, a cap or a hat
Bring an extra change of clothes and a towel
The sunscreen you use must be 100% biodegradable
Bring with you cash and a debit or credit card and cash for unforeseen expenses, in case you need to leave a deposit for the use of any equipment, or to pay for products or services not included in the tour
If you have any health problem or physical disability, please contact us before making your reservation, so we can advise you on it
towel
Swimwear
cap or hat
sunglasses
biodegradable sunscreen
mosquito repellent
beach shoes