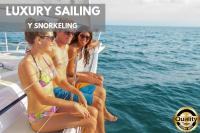 Description
Climb aboard our luxurious sailboat to discover the most extraordinary places on the high seas along our Caribbean coast; an excellent option to relax during your holidays. Sail to one of the Caribbean's most impressive reefs for a snorkeling adventure. Our sailboats offer a discreet and comfortable way to enjoy the varied marine life, including stingrays, and sometimes you will even be able to observe turtles. This half-day excursion combines the pure pleasure of sailing with the excellent treatment of our friendly crew who will always be attentive to what you need, kayaking, swimming in the high seas and snorkeling. Enjoy the tropical sun and the cool breeze surrounded by a luxurious setting sailing on one of the best tours of the Riviera Maya.
The Riviera Maya: A magical extension of the Caribbean that you have to see to believe!
The Riviera Maya is an extension of the Caribbean coast located just south of Cancun and Playa del Carmen in the northeast of the Yucatan Peninsula. This place is home to a number of white sand beaches, warm waters full of marine life and some of the best "All Inclusive" resorts in Mexico. The Riviera Maya has something for all tastes. On the Luxury Sailboat Ride tour in the Riviera Maya, you can enjoy that and much more. If you are looking for a tour of the Riviera Maya, this option is perfect for you.
Sail on a luxury sailboat and practice snorkeling in the style of the Riviera Maya
Are you ready to enjoy the Riviera Maya and all its tropical beauty by the sea? Join our friendly and experienced guides for a luxurious catamaran ride and snorkeling in the Riviera Maya style! This tour combines adventure with rest to offer each traveler the opportunity to enjoy their vacation to the fullest. Whether you are looking to relax on the beach, ride a catamaran or explore the ocean snorkeling in the Riviera Maya, our tour offers activities that are tailored to your interests. Enjoy the various amenities we offer; like our state-of-the-art snorkeling equipment, kayaks, gourmet lunches and much more, and experience one of the best tours of the Riviera Maya that is offered in this region.
YOUR DAY WILL INCLUDE
Professional bilingual guide
Guided snorkeling
Lifejacket
Snorkeling gear
Paddle boards
Drinks during the tour (alcoholic drinks after water activities)
Light gourmet lunch on board
Round-trip transportation from most Cancun and Riviera Maya hotels by air-conditioned vehicle
RESTRICTIONS
Minimum age: 8 years
This tour does not depart from Cancun
Not recommended for people with reduced mobility
Guests must be relatively fit and able to swim
For safety reasons, any snorkeling activity is not recommended for people with respiratory problems, back or neck injuries, heart problems, or conditions that can cause loss of consciousness.
WHAT TO BRING
Swimwear
Light sweater
A change of clothes
Towel
Biodegradable sunscreen
Hat
Sunglasses
Money for photos and souvenirs