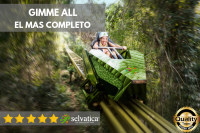 Departure
Mexicanos y Latinos
Cost Adults
104.61 USD
116.23 USD
Cost children
52.31 USD
58.12 USD
Duration
8 horas mas traslados
Description
You want it? You got it!

No other place in the world offers this wide variety of exciting activities
outdoors in a single full-day adventure.

An experience that will change your life!
Fly over the treetops on the preferred 10 zipline circuit in Yucatan.
At the end land or end wet with our AquaZip It is your choice! How is everything
this for a mind blowing jungle adventure? First, cool off in our cenote
natural, then challenge Tarzania, the famous human roller coaster, overcome your fears
walking on suspension bridges and increase your adrenaline with a crazy bungee swing or
parachute jump. So get ready for a unique Jungle experience
Rollercoaster and then fly like a superman as you rise above the jungle
on one of the fastest zip lines in the world. Finally get dirty just a
little mud on offroad madness driving a Polaris RZR buggy or a powerful ATV
and then complete the adventure with a dive to the private cenote falling from a
zip lining or relaxing in its refreshing fresh water.
It includes:
Transportation
10-line circuit
Aqua-zip / optional on the last line
Tarzania (zipline coaster)
Jungle Caster
Hanging bridges
Bungee Swing / Parachute jump
Superflight (2 lines)
Polaris RZR or ATV
Swimming in a natural cenote
Light lunch and waters

IMPORTANT
Minimum age to drive 16 years and identification to validate it.
The maximum waist measurement for zip lines and bridges is 47 "or 120 cm.
Minimum weight in Tarzaniat: 45 kg / 99 lb
Maximum weight in Tarzania: 110 kg / 243 lb
Locker 12USD

DO NOT FORGET
Swimsuit, comfortable clothes and shoes, cash or credit card for your photos, lockers, towels, souvenirs, drinks and tips.
Minimum age 8+
Half day tour
All weather
Optional vehicle insurance for all motorized non-refundable / For sale in
the park.