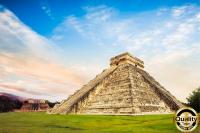 Departure
Cancún, Riviera Maya o Playa Del Carmen
Cost Adults
110.49 USD
129.99 USD
Cost children
55.24 USD
64.99 USD
Description
From Cancun or the Riviera Maya, take the most complete and exclusive archaeological tour to Chichén Itzá, Mexico.
Travel by luxury bus to one of the seven wonders of the modern world at Chichén Itzá, while enjoying a gourmet breakfast on board. Take a guided tour of its imposing Mayan remains, famous for the mathematical precision with which they were built.
The Xichén Deluxe Tour includes a visit to the colonial city of Valladolid, where you can get to know the Zací cenote and delight yourself with exquisite Yucatecan buffet food, in a beautiful 18th-century house.
Experience the majesty of Chichén Itzá, a world heritage site, with the most luxurious tour of Cancun and the Riviera Maya!
The tour includes:
Transfer from the hotel and round trip transportation by luxury panoramic bus, with air conditioning, reclining seats and two bathrooms.
Light gourmet breakfast (a baguette, fresh juice, a pancake and coffee), unlimited drinks and refreshing facial wipes on board.
Access to the archaeological zone of Chichén Itzá.
Specialized bilingual guide. Trilingual guide on Wednesdays (Spanish, English and French).
Radio guide device with headphones in Chichén Itzá.
Visit to Valladolid, tour of the historic center.
Visit to the Zací cenote (without swimming).
Typical food buffet with unlimited drinks at the La Casona restaurant in Valladolid. 0
Does not include:
Souvenir
Photographs
Tips
Additional Information / Recommendations:
Remember to bring printed proof of purchase for your tour.
Confirm the time and place of departure of your transportation.
Wear cool clothes and comfortable walking shoes, a hat and sunglasses.
the use of sunscreen and sunscreen containing titanium oxide and zinc oxide is only allowed.
Bring cash or card to buy souvenirs and personal expenses.
The hotels in the list are for reference to give you a meeting point close to your hotel or, where appropriate, give you the meeting point at your hotel.