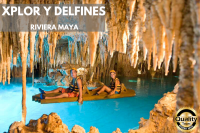 Description
Enjoy with your family and friends this all-day program where you can enjoy the best swim with dolphins: Delphinus Primax where you will interact with dolphins, kisses, hugs and an exciting "foot push" that is when the dolphins propels you by your feet to feel Fly over water!
At the end of your swim with dolphins we will take you to the Xplor adventure park where after putting on your helmet you can enjoy among zip lines, amphibious vehicles, a river of stalactites and rafts.
Xplor Dolphinclusive is the best all-inclusive package for your Summer Holidays in Riviera Maya.
Important information:
This tour is only offered to people staying in hotels in the Riviera Maya.
This tour is offered in a package and cannot be used in parts or on different days, companions must pay the full tour.
It is necessary to get to the dolphinarium and Xplor park in the transportation of Delphinus otherwise they will not have access.
It is mandatory to present photo identification to access these activities.
Delphinus Primax 4 is a 4-person group dolphin swim program.
There is only one group and one schedule per day
Xplor Park is limited to children over 5 years old.
The minimum height required for this activity is 1.40 meters or 40 kgs. The maximum weight for this activity is 136 kgs.
The use of the helmet is mandatory in the Xplor parquet (all the time). Harness on zip lines and life jackets for river activities.
Activities are restricted to pregnant women, people with heart problems, diabetes, epilepsy, asthma, hypertension, and claustrophobia.
It includes:
Round transportation: Hotel - Delphinus Riviera Maya - Xplor and return to your hotel.
Delphinus Primax: 1 hour program that includes 15 minutes of introduction out of the water and 45 minutes of interaction with a dolphin in a group. (Main activity: The "Foot Push") . We provide a towel to dry after swimming with dolphins.
Xplor All Inclusive Park

Access to Xplor park
Buffet style food
Non-alcoholic beverages)
Lockers.
Suggestions:
Your coupon or purchase confirmation email
A photo ID
Swimsuit to carry out the program with dolphins.
At Xplor it is allowed to take photographs, at Delphinus for your safety you cannot enter the water or the dock with a camera.
At Xplor we recommend you to wear shorts, a t-shirt, and swimming shoes (not houndstooth, flip flops or crocs, as they may fall off during activities). Xplor does not provide towels, please bring one from your hotel.
A towel
Money for souvenirs, photos of your swim and photos on Xplor.
We recommend that you leave your jewelry in your hotel safe.
Does not include:
Photos and video of the Delphinus Primax program.
Photos at Xplor
Souvenirs
Hours: 08:30 am to 5:00 pm
Days: l s ATURDAY join.
* Hotels in Cancun are not included in this promotion.