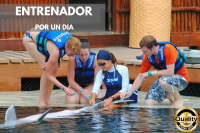 Departure
Delphinus Xelha
Cost Adults
178.00 USD
209.00 USD
Cost children
178.00 USD
209.00 USD
Description
By taking the Delphinus Trainer for a Day program you will be able to communicate with Dolphins in the same way as a professional trainer does. During this program, apart from being a Dolphin Trainer, you will learn in greater detail about these brilliant mammals: their anatomy, feeding, behavior, training techniques and care necessary to maintain their health in optimal conditions.
For your convenience, our program is for 6 people per group.
This activity includes exquisite international food and non-alcoholic beverages. As well as water and flavored water throughout the day.
If you ever dreamed of being a Dolphin Trainer, this is your great opportunity to experience it as professional dolphin trainers!
IMPORTANT:
The minimum age to participate in this activity is 13 years old and up. Children from 9 to 12 years old can enjoy this activity accompanied by an adult (both pay a ticket).
For safety reasons and to avoid distractions to dolphins, visitors and trainers, it is reported that cameras or video cameras are not allowed in wet areas, as well as companions to dock areas. We appreciate your understanding
It includes:
Dolphin Trainer Program
Round transportation.
Diploma, shirt, photo with coaching staff.
Use of the dolphinarium facilities (including buffet, non-alcoholic beverages, towels, bathrooms, showers and changing rooms).
200 minutes in the water with the dolphins including Primax swim.
Familiarization and general information about the dolphinarium and its population.
Special training techniques and reinforcers.
Activities related to the training and care of our dolphins.
Interaction with dolphins while doing the usual work of the trainers.
Delphinus Riviera Maya: Lunch and Drinks (non-alcoholic beverages).
Delphinus Xel-Há: Lunch and Drinks (non-alcoholic beverages).
Does not include:
Photographs and DVD of the program.
Transportation at a cost of 10USD per person
Weather:
200 minutes with dolphins during their day on the premises.