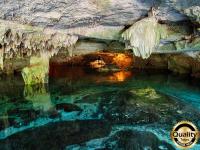 Departure
Playa Del Carmen y Riviera Maya
Cost Adults
116.00 USD
129.00 USD
Cost children
71.00 USD
79.00 USD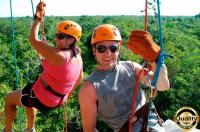 Cost Adults
125.02 USD
139.00 USD
Cost children
89.00 USD
99.00 USD
Description
From a cove in the Caribbean Sea to an oasis in the jungle, the Snorkel Xtreme tour has for you the most requested activities in Riviera Maya gathered in the same tour in Cancun. Adjust your visor and fins to snorkel in the Yal Kú cove in Riviera Maya, where your guide will show you the marine species that inhabit the crystalline Caribbean Sea.
Your day will continue in the jungle with a dizzying circuit of 7 zip lines with 5 different styles in Riviera Maya, an adventure that will have your heart pumping adrenaline non-stop as you cross the jungle through the jungle foliage. Then you will face the challenge of rappelling down into the Mayan jungle; The Snorkel Xtreme tour is as exciting and fun as it reads!
Then a second snorkeling tour awaits you in the Riviera Maya, but no longer in the sea, but in a crystal clear underground river full of stalactites and stalagmites. After all the activities in Riviera Maya , the Snorkel Xtreme tour has for you an exquisite buffet with typical food from the region and non-alcoholic beverages included.
It includes:
Round trip transportation
Bilingual guide
Snorkel in the Yalku cove
Snorkel in an underground cenote
Zip line circuit in the jungle
Rappel
Buffet food and drinks
Health insurance
Does not include:
Souvenirs, crafts, clothing, etc.
Photo or video services (photographs available at additional cost)
Tips
Recommendations / Additional information
Children under 6 years of age may participate in this activity only under the responsibility and direct supervision of a family member.
Basic swimming skills are required to participate in this tour.
This tour is not recommended for people with limited physical or motor mobility, respiratory or heart problems, pregnant women, with recent injuries or surgeries, or who cannot face moderate physical activities.
The repellent and sunscreen you use should be 100% biodegradable.
Wear comfortable clothing, closed shoes and water shoes.
The pick-up schedule and more details will be sent by mail at the conclusion of your reservation.
People under the influence of alcohol or drugs will not be allowed to participate in this tour.
Money for souvenirs and bonuses.
If you have any health problem or physical impediment, please contact us before making your reservation, so we can advise you about it.
Policies and restrictions
Not recommended for pregnant women.
Not suitable for people with limited physical or motor mobility, respiratory or heart problems, with recent injuries or surgeries, or who cannot face moderate physical activities.
Participation prohibited for people under the influence of alcohol or drugs.
Mayan Adventures