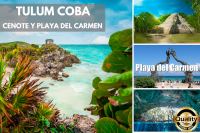 Cost Adults
55.00 USD
69.00 USD
Cost children
45.00 USD
59.00 USD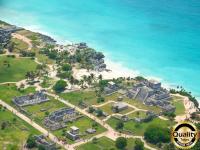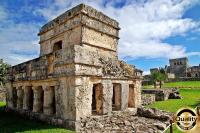 Cost Adults
69.00 USD
89.00 USD
Cost children
59.00 USD
69.00 USD
Description
Would you like to do four of the most interesting activities in Cancun ? Take a tour to Tulum and Coba with us! After a guided tour with a detailed explanation of the well-preserved pre-Hispanic structures of the Tulum archaeological site , such as "El Castillo" or "The Temple of the Descending God", you will have a good time to tour the archaeological site on your own and take excellent photographs. Swimming in a beautiful underground cenote is also included.

In this adventure you have four tours in Cancun the same day! After doing a tour in Tulum we will visit Cobá where, unlike other archaeological zones in the area, you can still climb the 120 steps that take you to the top of its main temple, the huge Nohoch-Mul (Great Mound in Spanish). The jungle view is breathtaking from the highest point of this temple!
After swimming in a cenote underground we will take you to 5th Avenue in Playa del Carmen ; There you can walk through its interesting pedestrian corridor, shop at its craft stalls, boutiques and shops, or enjoy a coffee or a drink in its countless bohemian spirit establishments.
The tour includes:
Round trip transfer by air-conditioned van or bus
Bilingual tourist guide
Entrance fees to Tulum and Cobá
Guided tour of both archaeological sites
Food
Swim in the Cenote Tancach - Há (30 minutes, approximately)
Use of toilets and changing rooms in the cenote
30 minutes of free time to explore Fifth Avenue in Playa del Carmen (only for guests staying between Cancun and Playa del Carmen)
Does not include:
Any type of drink
Photo or video services
Snacks or any food outside of the scheduled lunch
Other activities in Tulum or Cobá
Tips
Souvenirs, crafts, clothing, etc.
Any other product not mentioned in the list of what is included in the tour
Food, drinks or the use of life jackets in the cenote
Additional Information / Recommendations:
This tour operates every day
Pick-up times vary between 7:15 AM and 7:30 AM depending on the location of your hotel
The tour starts at 8:00 am *
Considering that the route involves walking on irregular trails and it is necessary to go down a staircase to reach the cenote, this activity is not recommended for people with limited mobility