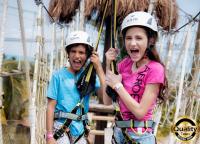 Cost Adults
30.68 USD
34.09 USD
Cost children
24.00 USD
27.50 USD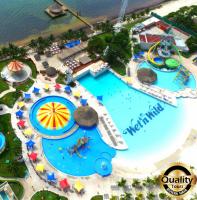 Cost Adults
59.00 USD
65.00 USD
Cost children
42.00 USD
45.00 USD
Description
Ventura Park Pass
Explore three worlds (Wet'n Wild, Aaah! Ventura, Fun World) full of exciting activities. The world-famous Water Park, Wet'n Wild, contains exciting slides, a fun Wave Pool and a special semi-submerged area for children. Aaah! Ventura is a place of adrenaline where you can climb thrilling zip lines, bungee jump and conquer hanging bridges. The little ones will love Fun World, where they can go up to classic carnival games.
Wet'n Wild, the best water park in Cancun!
Here you can enjoy the most exciting water slides in Cancun and other amazing water activities that you will not find anywhere else in the Hotel Zone.
You will spend an entertaining day with exciting descents, exciting curves and water jets in a unique adventure and an unforgettable vacation experience.
If you want strong emotions or a moment to relax, here at the Wet'n Wild Cancun , you can entertain the whole family in an environment of maximum security and comfort.
Exciting Water Slides:
Twister: Get on a 2 person tire and hold on as you slide down this spinning slide at sensational speeds!
Kamikaze: Do you feel bold? Get a dose of pure adrenaline in this amazingly fast drop that features refreshing jets of water for an exciting experience.
Bubba Tub: Have fun with the whole family on a giant tire (4 people max.) As they slide down 6 floors of fun with amazing dips and a refreshing landing.
Double Space Bowl: How brave are you? Discover it with a double space bowl with a drop to a chilling height of 15 meters where you can reach speeds of up to 50 km / hr! Your bravery will be rewarded in the end with an invigorating dive into a 3-meter pool.
Relaxing Options:
Lazy River: If you prefer to relax, the Lazy River is the perfect option for you. Take a seat and float along the calm river while enjoying the beautiful scenery. Feel the pure relaxation under the Caribbean sun for more than 300 meters.
Wave Pool: What if you like swimming pools but always miss the waves of the sea? Do not worry. Wet'n Wild Cancun has specially for you, its fun Wave Pool that generates waves up to 1 meter high!
Kids' Park: Wet'n Wild Cancun is a place to enjoy with the whole family — even the little ones!
Here they can safely enjoy the pool without having to worry about running into adults. At Kids' Park, with their own kid-only pool, they'll have everything they need to have the great fun of their lives (and don't worry, there's always a lifeguard on duty!).
Wet Bubble: Do your children enjoy the challenges? Here at the Wet Bubble, they can climb to the top of the bubble and be rewarded with a fun slide that ends with a dip.
Give yourself and your family a break from the hot Cancun sun with the only water park in the Hotel Zone: Wet'n Wild
IMPORTANT INFORMATION
Minimum statures:
Kids Park 1.07 mts max.
Kamikaze 1.22 mts.
Aqua Challenge 1.50 mts.
Bubble Up 0.95 min. - 1.50 max.
Twister, Double Space Bowl, Bubba Tub: 1.07 mts.
Don't forget your swimsuit, sandals, towel and money for photos, souvenirs, closet rental, individual tire rental and towel rental.
The use of biodegradable sunscreen is recommended.
Visitors must follow directions at all attractions.
Children under 7 years of age must be supervised and / or accompanied by an adult at all times.
For the safety of our visitors, our lifeguards are certified by the Mexican Red Cross.
Children under 7 years old must be supervised and / or accompanied by an adult at all times.
You cannot enter barefoot.
Short and shirt are required (not swimsuits).
Tarzania, Caribbean Zipline, HeliJump, Skywalk, Step Up: 1.50 meters or 5 feet
River Zipline, Free Fall Station, Bungee Swing: 1.07 meter or 3.5 feet
Fun World: Big Fun for the Little Ones
Introduce your little one to a world of old-fashioned family fun.
Here your children can:
Climb the only roller coaster in Cancun
Fly over the Caribbean Sea in our flying chairs
Stroll in a classic that does not go out of style: our Carousel
Enjoy the children's play area
ATTRACTIONS
Hurricane: Who doesn't like roller coasters? The only roller coaster in Cancun that also has the best view of the Mexican Caribbean and is perfectly suitable for children.
Crazy Chairs: Sit back to enjoy as you spin and fly over the Caribbean Sea in our fun flying chairs.
Carousel: Travel back in time and your childhood memories with this nostalgic classic ride.
Bring your childhood memories to life and create new ones with your family at Fun World!
IMPORTANT INFORMATION
Participants must follow the instructions at all attractions.
Children under 7 years old must be supervised and / or accompanied by an adult at all times.
Minimum Statures: Hurricane 1.30 mts . Flying Chairs 1.07 mts.
Closed footwear is recommended.
Short and shirt are required (not swimsuits).
You must be 100% dry to get on the attractions.
Availability subject to inclement weather.
All activities in Aaah! Ventura use the most advanced systems in construction, operation and professional equipment. The aerial systems have been developed to exceed the guidelines established by the ACCT (Association for Challenge Course Technology). The activities mentioned will work during set times and may not work simultaneously.
Visitors must follow directions at all attractions.
Children under 7 years of age must be supervised and / or accompanied by an adult at all times. Everyone must wear shoes, shirt and shorts.
Minimun height:

IMPORTANT INFORMATION
* All activities are subject to availability.
At Aaah! Ventura you will find the maximum adventure in Cancun for you and your family to talk for years and years
Heli Jump: Do you want to shorten your wish list? Conquer your fears by bungee jumping into the unknown from a height of 22 meters! (Not recommended for people with heart problems).
Bungee Swing: Half free fall, half pendulum. Hold on tight and hang at a height of 14 meters that will surely accelerate your heart rate!

FREE FALL STATION
Step Up: An activity that tests your skills as you climb logs that go up and up at every step, while a safety harness protects you all the time.
Netland: A tour on bridges made especially for children and youth at heart. Make your way through our 9 bridges surrounded by safety nets in this safe but exciting adventure.
Escape Challenge –Skywalk North / South: Remember those trembling and fearsome bridges that the protagonist must cross in the movies? Would you dare to cross any of the 6 we have? To cross them all we give you a tip: do not look down!
River Zip Line: Two zip lines will take you on a 240-meter ride over our famous Lazy River.
Caribbean Zip: Cross the entire park at an impressive height of 24 meters with these 4 parallel zip lines.
Tarzania: This is something you have not seen before. What do you get if you combine a roller coaster and a zip line of more than 240 meters? A crazy and innovative ride like no other!
ATTRACTIONS *
Aaah! Ventura is the guaranteed way to get you and your family the adventure in Cancun they are looking for.
Increase your adrenaline to the maximum with the only Zip Lines in the Cancun Hotel Zone. Then conquer your fear of heights with our suspension bridges raised to an incredible height of 20 meters!
Scream like Tarzan in this Adventure in the Hotel Zone full of challenges that will accelerate your heart.
Aaah! Ventura: Take out the Tarzan that you carry inside with these incredible adventures